Welcome to the start of a brand new week and for those who chart the days according to the lunar calendar, the start of a whole new Year of the Bull, and let's hope markets can keep up their bullish momentum.
In brief (TL:DR)
In today's issue...
Who Says Investing Shouldn't be Funny?
A Slaughtered Goose Lays No Eggs
Bitcoin Borders on US$50,000 - Will Wonders Ever Cease?
Market Overview
The word of the week and the lowdown on the street is "reflation."
For those unfamiliar with the word, reflation basically means trying to stimulate the economy by increasing the money supply or by reducing taxes, with the goal of bringing the economy back up to the long-term trend, following a dip in the business cycle.
In plain English, governments are trying to spend their way out of the current coronavirus quagmire and markets are responding accordingly.
Now suffice to say that a stock market (or any other asset market) does not an economy make (tell that to petro-states), and are meant to be a reflection (if somewhat distended) of actual corporate economic conditions.
But a flood of money and record low interest rates are distorting market forces such that by most reasonable metrics the stock market has increasingly become disconnected from the economy, almost as if it's operating in a parallel universe of rainbows and unicorns.
For investors though, there's little alternative other than to make money while the market pays and in Asia, markets were higher in the Monday morning session with Tokyo's Nikkei 225 (+1.18%), Sydney's ASX 200 (+0.88%) and Seoul's Kospi Index (+1.34%) all higher, while Hong Kong's Hang Seng Index remained closed for the Lunar New Year holiday.
1. Who Says Investing Shouldn't be Funny?
Retail investors are pouring into a variety of micro cap stocks and other meme investments for a laugh and making a fortune in the meantime
Even Wall Street is starting to take notice as languishing stocks in previously unloved sectors all start to move, as investors search out for the next GameStop (+2.54%)
Much to the chagrin of the legions of Ivy-league educated, Brooks Brothers suit-wearing set, retail investors are making a mockery of the stock market.
Forget charts and analysis fundamental or technical – humor is driving billions of dollars of retail monies into stocks, in what some have called the "meme" trade.
In what was a quiet week under current market conditions, wild trades from penny stocks to cannabis companies (because why not get rich while getting high?) have fueled the "everything rally" and given the adults in the market more reasons to fret over excessive speculation.
In the past six weeks, more than US$6.8 trillion globally has been added to stocks and the Harvest ETF whose ticker name is "MJ" for what else other than marijuana, has posted its largest three-day rally on record, surging some 42% before correcting.
According to Goldman Sachs (+1.32%), there is method to the madness – with day traders dumbfounding Wall Street by chasing price momentum or betting on the recovery trade and making big money in the process.
And the enthusiasm of novice traders for cyclical companies has had some market-altering effects, pushing the Russel Microcap Index on track for its best quarter against the venerable S&P 500 by a longshot as retail investors search for the next GameStop.
Nonetheless, investors looking to head into the casino that has become the market, should note there are plenty of signs of excess.
For starters, traders have powered into smaller and mid-sized firms at a time when megacaps have been priced out of the market for some.
And while the S&P 500 is not at its most expensive levels on record, it's still trading at 22 times next year's expected earnings, close to a two-decade high notched last year.
Low interest rates may be justifying some of the frothiness, but not everything can be blamed on rates.
Day traders have become more brazen, betting that they can get rich quick by buying the stocks of in vogue companies in industries like solar power and cloud computing, regardless if they're profitable or not (refer to Exhibit A - GameStop).
It seems somewhat apt that the Lunar New Year of the Bull is in full force in the markets, with streams of previously private firms rushing to suck at the teat of investors through SPACs (Special Purpose Acquisition Companies) which are a backdoor way to list without the hassle of an IPO.
According to data compiled by Bloomberg, some 155 SPACs raised US$46 billion in just the first six weeks of this year.
And betting on a SPAC has become almost a sure win, with the SPAC index up 18% this year.
It may no longer just be individual stocks that are a meme – the whole market is starting to look like one.
2. A Slaughtered Goose Lays No Eggs
Retirement portfolios and pension funds are become ever-larger shareholders in big tech firms which don't pay dividends
An ageing American demographic and a growing need for retirement income may one day push some firms to start paying out dividends, even big tech
Almost everyone knows about the fable of the farmer who owned a goose that laid golden eggs – so convinced was the farmer that even more gold eggs lay hidden inside the goose that he sliced open the goose, only to find that it was just an ordinary goose on the inside.
Similarly, pension funds who have long relied on industrial stalwarts to provide their members a steady and regular stream of income via reliable dividends, have had to make some readjustments to their portfolios over the past decade.
Even before the pandemic, dividend-generating stocks were on the decline and the rise of growth firms that prefer to reinvest or buy back stock, rather than give cash to shareholders, has meant that five of the seven largest S&P 500 stocks pay no dividend at all.
Yet as retirement portfolios start filling up with the likes of Amazon (+0.48%), Facebook (+0.11%), Google (+0.30%) and Tesla (+0.55%) – income via dividends will start becoming more important than share buy backs – killing the goose that lays the golden eggs.
But as the United States starts to become an aging society, it may just be possible that a big growth firm, particularly one with plenty of free cashflow, might begin paying out dividends as seniors and retirees need income and start demanding it.
As pension funds and other retirement portfolios become larger shareholders of these growth firms, they could potentially play more activist roles, perhaps even going so far as to requiring seats at the table to shape individual corporate dividend policies.
To be sure, dividends in and of themselves are not a bad thing – because it imposes a measure of fiscal discipline on a company and its management team (and might see boards more reluctant to take measures such as putting a portion of their assets in Bitcoin).
And committing to a dividend, also puts pressure on a management team to avoid the largess that the Silicon Valley has grown so accustomed to – spending their way to (hopefully eventual) profitability.
That places added pressure on firms to ensure profitable and sustainable growth in order to grow their dividend payouts and it's also an important reason why dividend-paying firms have worked out over time – they provide a check and balance on the capital allocation process.
But don't expect big tech to be racing to roll out dividends – if Amazon's story is any example, a firm can make losses for as long as a decade before turning things around in a big way and come to dominate an entire market segment.
Instead, retirement portfolios that are looking to beef up on potentially dividend-yielding firms should explore semiconductor stocks such as Qualcomm (+1.66%) and Intel (+1.90%) – companies with good cashflow, strong balance sheets but are far from sexy.
That puts them at reasonable valuations, provide plenty of dividend yielding potential, with a side of growth, to keep things interesting.
For now at least, investors can't have their eggs and eat the goose as well – growth comes at a price, and that price is income by way of dividends.
3. Bitcoin Borders on US$50,000 - Will Wonders Ever Cease?
While investors were whiling away the weekend, traders took advantage of thinner volumes to push Bitcoin past US$49,000 for the first time ever
Explosive rally in Bitcoin is due to a number of factors, including unprecedented fiscal and monetary stimulus, as well as ever-increasing institutional acceptance
What a difference a weekend makes.
It's long been known that thinner trading volumes on the weekends make Bitcoin particularly susceptible to large price swings and this past weekend saw Bitcoin surge to as high as US$49,000 for the first time ever before slipping slightly.
Up over 70% so far this year, Bitcoin has been buoyed in recent weeks on news that card issuer Mastercard (-0.55%) will start allowing its cardholders to transact in certain cryptocurrencies on its network, becoming the largest company ever to embrace the nascent asset class.
According to a Mastercard blog post last week, the firm is also "actively engaging" with central banks around the world on plans to launch their own central bank-issued digital currencies.
Bitcoin has also received a boost from endorsements by billionaire hedge fund managers Paul Tudor Jones and Stanley Druckenmiller.
Last week Morgan Stanley (+1.21%) was also reported by Bloomberg to be mulling a US$150 billion bet on Bitcoin via its investment banking arm, following news last week that Bank of New York Mellon (-0.47%) plans to provide cryptocurrency access to some of its clients.
That momentum has fueled Bitcoin's most recent rise as almost every week it seems as if new, high-profile institutions or investors are coming out to speak in support of Bitcoin's value and function within a portfolio.
Whether or not that momentum will continue to be sustainable is anyone's guess, as Bitcoin continues to remain wildly volatile, susceptible to sharp pullbacks on slow news days.
Nonetheless, there are continued reasons for bullishness in the world's biggest cryptocurrency by market cap.
Now that the crypto-savvy Gary Gensler has been nominated by U.S. President Joe Biden as his pick to helm the U.S. Securities and Exchange Commission, the prospect of a U.S.-based Bitcoin ETF is better than ever.
Last week, Canadian regulators approved their first Bitcoin ETF, paving the way for the U.S. to follow suit, as it had done previously for a cannabis ETF.
And U.S. Treasury Secretary Janet Yellen has long voiced a need for cryptocurrencies to be regulated – potentially opening the door for broader institutional adoption and securitization of digital assets.
All of these factors will come into play to help fuel the bullish Bitcoin narrative and while Bitcoin is likely to remain volatile for some time to come, for now at least, its prospects appear positive.
What can Digital Assets do for you?
While markets are expected to continue to be volatile, Novum Alpha's quantitative digital asset trading strategies have done well and proved resilient.
Using our proprietary deep learning and machine learning tools that actively filter out signal noise, our market agnostic approach provides one of the most sensible ways to participate in the nascent digital asset sector.
If this is something of interest to you, or if you'd like to know how digital assets can fundamentally improve your portfolio, please feel free to reach out to me by clicking here.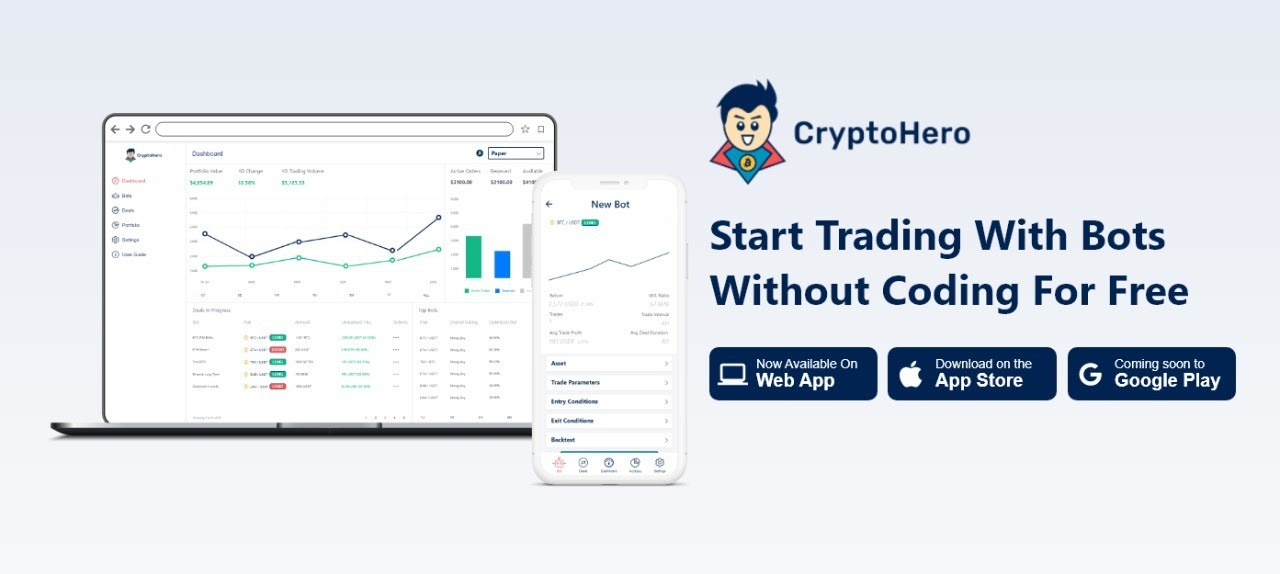 Looking to trade cryptocurrency yourself? Then why not try
CryptoHero
, a member of the Novum Group.
Enjoy some of the high performing algorithms that Novum Alpha uses, absolutely free!
Because you can't be up 24 hours trading cryptocurrency markets, CryptoHero's free bots do the trading for you.
Simple and intuitive for crypto beginners to set up and run, CryptoHero is currently available on the
Web
and
iOS
with an Android version ready in 2021.
Try our one click copy bot settings with the button below and enjoy 1-month Premium Subscription absolutely free!