Novum Alpha - Daily Analysis 9 February 2021 (10-Minute Read)
Terrific Tuesday to you as stocks continue to post new records.
In brief (TL:DR)
U.S. stocks kicked off Monday higher with the S&P 500 (+0.74%), blue-chip Dow Jones Industrial Average (+0.76%) and the tech-centric Nasdaq Composite (+0.95%) all up on signs that the Biden administration remains committed to fresh fiscal stimulus.
Asian stocks were mostly up on Tuesday, taking their cue from bullish sentiment on Wall Street.

The benchmark U.S. 10-year Treasury yield dipped slightly to 1.168% (yields fall when bond prices rise) but was otherwise flat as investors continued to pour into risk assets.

The dollar steadied on Monday, after Friday's slide.
Oil continued to rise with March 2021 contracts for WTI Crude Oil (Nymex) (+0.52%) at US$58.27 after rallying on tighter supply and signs that demand is improving.
Gold rose with April 2021 contracts for Gold (Comex) (+0.25%) at US$1,838.70.
Bitcoin

(+20.64%) jumped to a new record at US$46,764 after Tesla (+1.31%) revealed that it had bought $1.5 billion of the cryptocurrency as outflows from exchanges led inflows (outflows typically suggest that traders are looking to hold Bitcoin in anticipation of higher prices).
In today's issue...
Build It and They Will Come - Except in a Pandemic
Dollars Everywhere But Not A Dime to Lend
Tesla Bets Big on Bitcoin, Blasting it to New All-Time-High
Market Overview
The Lunar New Year weekend is almost upon us and for those unfamiliar with Asian customs surrounding the celebration, they almost all revolve around gambling.
And it appears the markets may have caught the yellow fever as well as speculation is rife and a bet on Bitcoin by Tesla has sent the world's premier cryptocurrency skyrocketing to a new all-time-high.
Elsewhere, stocks continued their unprecedented rally on signs that the Biden administration will not buckle when it comes to stimulus, providing the perfect conditions for asset prices to rise even higher.
Over in Asia, stocks were mostly up in the morning trading session with Tokyo's Nikkei 225 (+0.35%), Seoul's KOSPI (+0.87%) and Hong Kong's Hang Seng Index (+0.27%) all up strongly, while Sydney's ASX 200 (-0.40%) was the only laggard as poor corporate earnings continued to weigh on sentiment Down Under.
1. Build It and They Will Come - Except in a Pandemic
Some of America's largest mall operators are struggling to make payments on their substantial debt

Odds of foreclosure are low, given that creditors may not be keen to realize their securities on large and complex mall operations, with vast entertainment footprints
Though it's impossible to tell, SpongeBob SquarePants looks just ever so slightly forlorn. The life-size fiber glass figure stands alone at the Mall of America's Nickelodeon theme park, with nary a child to be seen trying to take a photo with him.
The largest mall in all the United States, the cavernous complex of shopping and entertainment that is the Mall of America. now feels like the after scape of a zombie apocalypse movie.
And over by the Onondoga Lake, Destiny USA, New York's largest shopping mall, which features a 40,000 square foot theme park where children can experience a simulated earthquake, or play laser tag, is mostly empty except for the stray family or two.
With less than a fifth of entertainment tenants at Destiny USA currently open, these behemoths of integrated retail and entertainment are buckling at the knees in the wake of pandemic restrictions.
Adding theme park attractions was a strategy that Pyramid Management, Destiny USA's owner, deployed to try and draw in customers who would otherwise be shopping online via Amazon (-0.87%), and to provide a diversified revenue source.
And under normal conditions, that would make sense, but in the wake of the pandemic, those entertainment options have become an additional burden for mall owners to bear.
Last April, Pyramid Management entities became delinquent on securitized debt called commercial mortgage-backed securities or CMBS, negotiating extensions and deferrals.
Another privately held group Triple Five Group, which owns Mall of America and American Dream, and invested heavily in attractions, racking up billions of dollars of debt in the process, is also having trouble making good on its loan obligations.
And while entertainment options will help these malls take off again when the pandemic eventually ends, no one knows when that will be, vaccinations notwithstanding.
With mall owners having billions of dollars of payments due this year without a clear idea of how long pandemic restrictions will affect revenue, it's only a matter of time before there is a default in some of these CMBS without additional support or government bailouts.
Nonetheless, lenders aren't likely to foreclose on these massive mall properties for now, given the complexities of taking over their management, or trying to find another buyer.
2. Dollars Everywhere But Not A Dime to Lend
The biggest banks in the U.S. are hoarding cash and Treasuries and the highest levels ever

American individuals and businesses are struggling to get access to reasonably priced loans
You would think that with interest rates near-zero and bank deposits exploding, banks would be falling over themselves to lend out cash, but you'd be wrong.
Even as the pandemic tightens its grip of the economy, U.S. banks have reduced the portion of their collective balance sheets dedicated to loans to a new low for everyday borrowers.
Total loans at the 25 largest American banks now comprise less than 46% of combined assets, down from 54% this time last year, according to weekly U.S. Federal Reserve data.
And while some of that decrease can be attributed to a rise in deposits, it also provides a fresh reality check for the banking industry which has been quick to trumpet its support for businesses and households amidst the pandemic.
Instead of lending (which is technically what banks are also supposed to do), banks have been expanding their holdings of U.S. Treasuries and government-backed mortgage securities – in other words they've become decidedly more risk averse.
Even as yield on junk bonds has dipped below 4%, banks appear less confident on the next phase of economic recovery and seem to be prefiguring a swathe of defaults when government support is eventually withdrawn.
Loans by U.S. banks fell over 1% from last year to US$5.5 trillion, a figure that also includes new loans backed by the U.S. Small Business Administration.
Over that same period, big bank balance sheets expanded by over 17% to US$12 trillion after the Fed flooded the financial system with cash in the hopes that firms would keep credit flowing to the U.S. economy.
Instead, banks have kept large chunks of the Fed injections as cash, and used much of the rest to purchase securities guaranteed by the federal government – at least they're not using the money to pay out bonuses (they are, but it's not from this pool).
The big banks are proving yet again that if the Fed expects them to be lending, as they had anticipated they would do in the aftermath of the 2008 financial crisis, they appear to be disinterested in fulfilling those duties.
Despite robust profits at the banks, they continue to retrench staff and make it more difficult for businesses and households to obtain reasonably priced credit.
Whilst large, listed firms have the luxury of heading into the bond markets to raise capital, regular loans at big banks accounted for less than half of their balance sheets and fallen to fresh lows no fewer than 21 times since last May.
It could well be that the business model of banks has changed.
With large, listed companies finding it easier to raise funds in the public bond markets, given the near-zero interest rate environment, banks may be shifting the focus away from lending to hoarding.
And you can take that to the bank with you.
3. Tesla Bets Big on Bitcoin, Blasting it to New All-Time-High
The world's leading electric vehicle maker reveals in a regulatory filing a US$1.5 billion investment in Bitcoin
A bet on Tesla stock is now juiced by gains in Bitcoin as well, representing a self-fulfilling positive feedback loop
A new dawn has broken for Bitcoin as the bellwether cryptocurrency has breached the US$46,000 level for the first time ever.
The world's leading electric car company Tesla has revealed in filings yesterday that it invested some US$1.5 billion in Bitcoin and signaled its intent to begin accepting cryptocurrency as a form of payment for its desirable vehicles, sending the price of Bitcoin skyrocketing.
A recent stock market darling, especially among the retail crowd, Tesla has now also become a proxy for Bitcoin, similar to the way investors bet on the stock of MicroStrategy (+29.16%) , after it revealed last year its investment of US$250 million in Bitcoin.
By some measures, only US$0.23 for every dollar invested in MicroStrategy represents an exposure into Bitcoin, while the amount for Tesla is likely to be far lower.
But Tesla enjoys both speculation on its primary business model as well as its bet on Bitcoin, fueling the bullish narrative for both assets.
Late last year, Tesla CEO Elon Musk went on Twitter (+2.50%) to ask MicroStrategy CEO Michael Saylor how a large amount of Bitcoin could be purchased without necessarily moving the market.
And after updating its investment policy last month to buy digital assets, Tesla revealed on Monday the extent of its purchase of Bitcoin.
In a securities filing with regulators on Monday, Tesla revealed,
"We expect to begin accepting Bitcoin as a form of payment for our products in the near future, subject to applicable laws and initially on a limited basis."
Tesla is the latest high-profile publicly-traded firm to back Bitcoin, lending its substantial clout to cryptocurrencies, which have gained increasing mainstream acceptance despite no shortage of skepticism.
And Musk is no stranger to disrupting legacy industries, including automotive and space travel, so his foray into Bitcoin should not come as a complete surprise – but it does speak volumes about the future of the cryptocurrency industry.
Tesla shareholders are now inadvertently also taking a bet on Bitcoin as well, albeit a much smaller one compared to MicroStrategy, accounting for just a small fraction of the electric vehicle maker's massive cash hoard.
At the end of 2020, Tesla had over US$19 billion in cash on hand after raising US$12 billion in stock sales, taking advantage of an almost 750% surge in its stock price. By way of comparison, Bitcoin rose some 300% in 2020 alone.
What can Digital Assets do for you?
While markets are expected to continue to be volatile, Novum Alpha's quantitative digital asset trading strategies have done well and proved resilient.
Using our proprietary deep learning and machine learning tools that actively filter out signal noise, our market agnostic approach provides one of the most sensible ways to participate in the nascent digital asset sector.
If this is something of interest to you, or if you'd like to know how digital assets can fundamentally improve your portfolio, please feel free to reach out to me by clicking here.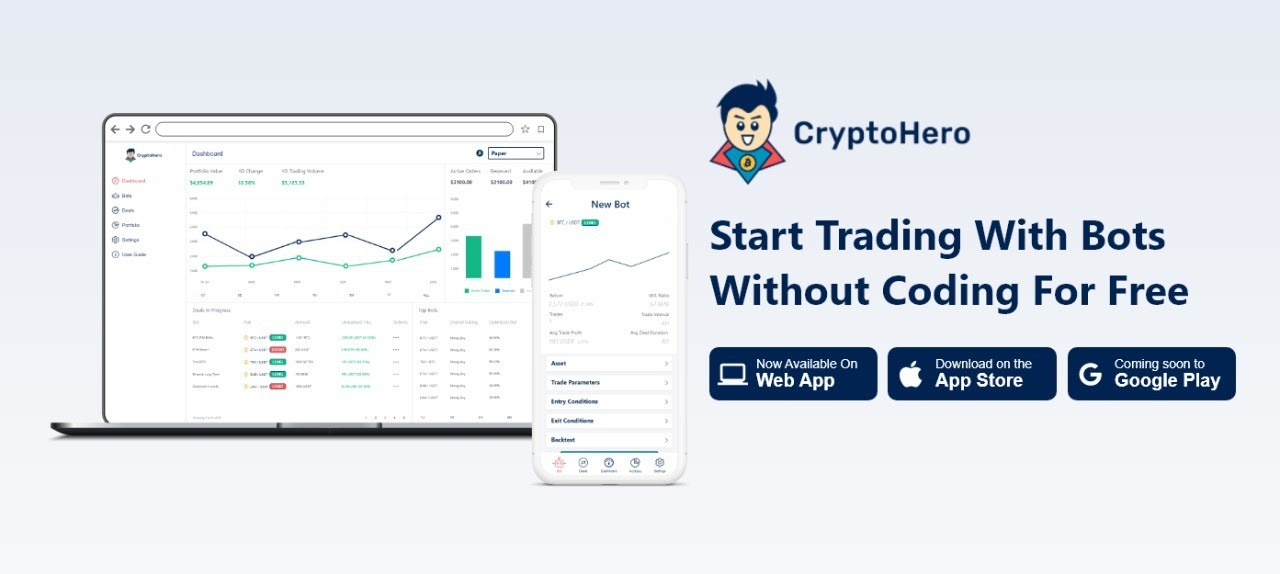 Looking to trade cryptocurrency yourself? Then why not try
CryptoHero
, a member of the Novum Group.
Enjoy some of the high performing algorithms that Novum Alpha uses, absolutely free!
Because you can't be up 24 hours trading cryptocurrency markets, CryptoHero's free bots do the trading for you.
Simple and intuitive for crypto beginners to set up and run, CryptoHero is currently available on the
Web
and
iOS
with an Android version ready in 2021.
Try our one click copy bot settings with the button below and enjoy 1-month Premium Subscription absolutely free!
Feb 09, 2021