Novum Alpha - Daily Analysis 6 November 2020 (8-Minute Read)
Happy Friday and I hope that it's been a great week for you so far!
In brief (TL:DR)
U.S. stocks continued to rise as the S&P 500 (+1.95%), blue-chip Dow Jones Industrial Average (+1.95%) and the tech-heavy Nasdaq Composite (+2.59%) were all higher, even as the paths to a Biden presidency widen while those for incumbent Trump narrow.
Asian stocks opened stronger as it appears that politics in America may walk a more central path soon.
The yield on U.S. 10-year Treasuries jumped higher to 0.775%, up from 0.768% the day before (yields typically rise when Treasury prices fall) as investors bet on risk taking and the U.S. Federal Reserve hinted at fresh bond purchases.
The dollar managed to hold on to gains with no changes in Fed policy.
Oil slipped with December contracts for WTI Crude Oil (Nymex) (-1.80%) at US$38.09 from US$38.79, with a rising dollar.
Gold was flat as December contracts for Gold (Comex) (-0.23%) slipped to US$1,942.30 from US$1,946.80 in the previous session, as traders entered a holding pattern pending final U.S. election results and fresh measures out of the Fed.
Bitcoin (+12.48%) surged higher to US$15,873 from US$14,111 as it hit its highest level since January 2018 and as outflows from exchanges continued to outpace inflows (outflows typically suggest that investors are looking to shore up Bitcoin stocks in anticipation of price increases).
In today's issue...
A Divided America May Just Be Good for Business
All Fed Up - The U.S. Central Bank Does Nothing for Now
Bitcoin Blasts Off! Is US$20,000 Next?
Market Overview
Trump won't go down without a fight, he has to fight, it's what he's known for.
But at some point, if a deal gets cut which profits him, secures the existence of the Trump Organization and perhaps helps to stave off the mountain of debt that is looming against him, he'll take it and see to a peaceful transition of power (if any).
Right now, like a cornered animal, Trump is lashing out, firing off lawsuits faster than he can fire off tweets - many if not all of these are doomed to fail.
Recounts in various states will only reveal what everyone already knows, it's over.
But investors betting on chaos and Trump riling up his militia base and calling them to arms, to spark widespread unrest, may be somewhat disappointed.
Trump is not an ideologue.
He's not a rebel leader or someone driven by principles.
In the past four years, he's made abundantly clear, that he cares only of himself and his interests.
Which is where this may all be ultimately headed. If the banks agree to revolve his credit, if he's guaranteed amnesty from the tsunami of prosecutions headed his way post election, he may cut a backdoor deal to walk away peacefully and quietly.
It's the reason that Trump has never committed to a peaceful transition should he lose - it's his last bargaining chip.
Across the Pacific in Asia, markets were slightly up, but otherwise flat, with
Tokyo's Nikkei 225 (+0.60%), Seoul's KOSPI (+0.02%), Sydney's ASX 200 (+0.81%) and Hong Kong's Hang Seng Index (+0.30%) all up marginal amounts.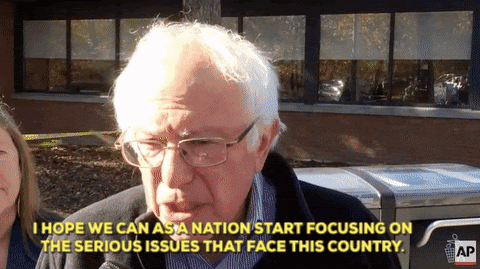 1. A Divided America May Just Be Good for Business
Polls reveal Americans are rejecting the chaos of the presidency that is Donald Trump as well as the elements of the extreme left, by voting for Republicans down-ballot.

Moderation may help bring America back towards a more centrist approach instead of appealing to its worst excesses
While the votes are still being tallied up, the ballots returned so far are encouraging for one reason – Americans are finally applying themselves in the determination of their governance.
Because nothing quite brings Americans together like a crisis.
Whether it's a terrorist attack or an overseas war, the sheer number of Americans voting (a new record) don't necessarily reflect a divided America so much as one that has finally gotten off the couch.
And if the vote count continues its current trajectory, Biden will likely pick up the presidency while Republicans maintain control of the Senate and pick up a few extra seats in the House of Representatives.
While partisans on both sides of the aisle may be dissatisfied with the outcome, Americans and the rest of the world may have cause to celebrate.
Exhausted by the endless political drama – there's a reason reality television limits itself to one hour (and there's a reason why there are commercial breaks), it's high time that politics in the United States went back to being boring.
It's just too much.
Americans and the world in general are tired of the Trump administration, it's endless lies, seemingly unending scandals and the reality TV-style drama that plays out, but has real world consequences on the lives of billions around the world.
Which is why Americans voted to change the executive leadership but voted for Republicans down-ballot to provide political balance and protect the United States from the excesses of a Democratic government.
Because rejecting Trump does not mean endorsing the Democratic agenda, nor elements of its far-left wing.
A divided government represents a repudiation of both Trump and the far left of the Democratic party, and that may actually be a good thing.
Punitive business tax increases, a ban on fracking and more expansive regulation will likely keep the economic engine of America intact.
Calls to break up large tech, one of America's key strengths, will no longer go unchallenged.
Yet areas such as the coronavirus pandemic response, rebuilding of transportation infrastructure and piping broadband internet to rural areas, as well as mending relationships with U.S. allies, may all be areas where bipartisan and common ground could be found.
And perhaps Biden is the best person to help politicians find that common ground.
No doubt there will be partisan bickering and political gridlock, but ultimately, Americans have to hope that politicians, regardless of their persuasions, want what's best for America and Americans.
That wasn't necessarily as clear with Trump in the White House.
And while Biden may not be the perfect candidate, perhaps what America and the world needs right now is a center left leader who will be able to facilitate the compromises needed to repair the American economy.
China has already hinted that it is considering looking inward, another four years of Trump would cement that view, whereas Biden might engage more with China, engagement being a precursor to understanding and hopefully, the avoidance of conflict.
Ultimately, Trump brought to the surface the very worst aspects of America, it's extremist elements, from the far left to the far right, giving a voice to the fringe elements of the far right and providing a target to unify the far left – neither is good for business.
No businessperson will be spending money on research and development in the midst of a civil war.
America can and must return to the politics of normalcy – because normalcy is good for business.
2. All Fed Up - The U.S. Central Bank Does Nothing for Now
With politics still on hold, the U.S. Federal Reserve is not making any sudden moves, but comments by Chairman Jerome Powell demonstrate a willingness to intervene should there be continued political gridlock

While Congress has fiscal tools, the Fed can slash rates further, although they are already near zero, and commit to further bond purchases, which is the more likely scenario
What do you do when you're not sure who your next boss is going to be?
You do nothing to move the needle that's what.
Any sudden movements at this juncture could jeopardize your career, but even more importantly, the American economy.
It's unclear if U.S. Federal Reserve Chairman Jerome Powell thought he would know who America's next president would be by now, but the timing of the Federal Open Market Committee meeting was unlikely to yield any surprises so close to the aftermath of a fractious election.
Predictably, the Fed chose to do nothing for now, but Powell has hinted that the central bank is open to bond purchases in the coming months, emphasizing that fiscal and monetary support is needed as the pandemic continues to cloud the prospect of an economic recovery.
With the Fed set to meet again in mid-December, when hopefully America knows who its president is or will be, there is still the potential for the central bank to change course if the economic picture deteriorates further.
And while Biden has a clearer path to the presidency than Trump, that the Senate will likely remain in Republican hands mean that the prospect of extensive stimulus is slim, putting the weight of lifting the economy squarely on the shoulders of the Fed.
Although Congress is in charge of spending, it's unlikely that the Democrat-controlled House, with its pared-down majority will be able to run the gauntlet of trying to get a massive fiscal stimulus package passed through the Senate.
Which is why the Fed will likely need to intervene via monetary policy, buying more bonds or slashing interest rates even further, or a combination of both – all of which will weigh on the dollar and boost asset prices, fueling the same themes that persisted throughout the pandemic – gold, tech stocks and Bitcoin.
Against a backdrop of surging coronavirus case numbers, more than 12 million Americans remain out of work and October's employment report, due Friday, is expected to show the jobless rate continuing to edge down.
But that Powell revealed an openness to consider fresh asset purchases should be telling – it reflects growing fatigue in the other branches of government, over constant political gridlock and turmoil.
Investors can take some comfort that once the dust settles from the elections, if politicians can't or won't act, the Fed will.
3. Bitcoin Blasts Off! Is US$20,000 Next?
While election results are still being counted in the U.S., uncertainty fuels the Bitcoin narrative as a hedge against a variety of scenarios, chaos in a contested election, or the absence of a peaceful transition of power
Bitcoin is also fueled by the prospect of fresh stimulus, or in the absence thereof, more quantitative easing by the U.S. Federal Reserve or rate cuts
Nothing fuels cryptocurrency quite like concerns over chaos.
While votes are still being counted, the bellwether of the cryptosphere Bitcoin, has been on a tear, soaring to US$15,600, it's highest level since January 2018.
Adding to the frenzy, law enforcement officials from the U.S. have seized thousands of Bitcoins, worth over US$1 billion, that they allege are linked to Silk Road, a dark web e-commerce site that facilitated the sale and purchase of illegal items, including drugs and weapons.
Bitcoin has benefited from high profile investments from Square (+2.36%) and MicroStrategy (+5.30%), as well as the announcement that PayPal (+5.29%) would allow its 364 million plus users to buy, sell and pay for items using cryptocurrencies, starting next year.
The key difference is that customers can pay for items bought through PayPal using cryptocurrencies, but merchants can choose to accept that payment in fiat currencies such as the dollar.
The implications of this surrogate exchange mechanism provided by PayPal are profound.
Because now an investment in a cryptocurrency can also be spent.
Imagine using profits that you made from buying stocks to pay for other items that you want without having to sell the entire stock, but giving up a portion of it.
Some investment analysts are also touting Bitcoin as a tool for diversification in times of uncertainty, so fresh lockdowns in Europe, extensive delays in U.S. election results and the ensuing violence and chaos that will follow, could also be fueling Bitcoin's ascent.
And while some are warning that Bitcoin is just another "pump and dump" scheme boosted by techno-libertarian spiel, there are others who suggest that its emergence as a nascent asset class is no longer up for debate.
To be sure, high profile investors from billionaire hedge fund manager Paul Tudor Jones investing in Bitcoin, to even Goldman Sachs (+2.57%) and JPMorgan Chase (+4.09%) now being open to cryptocurrencies, are all suggesting that this time may indeed be different.
And while the dream of a Bitcoin ETF still appears to be some time in the distance, there is at least some possibility that Bitcoin's previous price resistance at US$10,000 may eventually shift towards US$20,000 yet again.
What can Digital Assets do for you?
While markets are expected to continue to be volatile, Novum Alpha's quantitative digital asset trading strategies have done well and proved resilient.
Using our proprietary deep learning and machine learning tools that actively filter out signal noise, our market agnostic approach provides one of the most sensible ways to participate in the nascent digital asset sector.
Nov 06, 2020